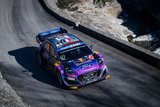 The premiere of the new, hybrid season of the WRC in Monte Carlo was combined with the first victory of Sebastien Loeb with the colors of M-Sport.
It remains unknown whether the 9-time champion will play again with the British team, with discussions between the two sides continuing for another 4-5 rallies, as rumored.
The difficulty lies in the fact that he is fully involved with Lewis Hamilton's team in Extreme E, and Prodrive in rally-raid.
In an interview he gave on his site, he explained what is true, and stressed that Puma's temptation is intense:
"The rest of the season will be shared for me between Extreme E and the World Rally-Raid Championship with BRX.
"This is the backbone of my year, and I'm committed to what we do with Prodrive.
"Obviously, if I have the chance to get behind the wheel of a Puma Hybrid Rally1 again, I do not know if I could resist the temptation."