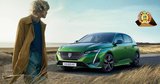 THE Peugeot pioneers once again in After Salescreating the service "Peugeot Assistance». This new free service is added to the already privileged program of "Peugeot Care", strengthening it significantly, since it is a service that is offered only by Peugeot nationwide.
This service covers the following cases:
Immobilization of a car due to a fault
Immobilization of a car due to an accident
On-site repair, if possible
Tire replacement
Battery boost power supply
Transfer to nearest Peugeot Authorized Repairer
Free roadside assistance "Peugeot Assistance"Concerns all, without exception, the owners Peugeot. In order to read the terms in detail and to gain access to the service, those interested should fill in the form at https://www.peugeot.gr/after-sales-offers/peugeot-assistance.html.