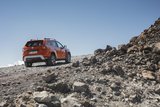 The Rallye Aïcha des Gazelles du Maroc, first held in 1990, is a women-only Rally-Raid race.
Since 2017, the Dacia Duster is the undefeated champion in the Crossover category, winning seven times in the last eleven editions with female crew members from five countries (France, Morocco, Poland, Belgium and Switzerland). Three Dusters with the support of Dacia, will start for the 31st edition of the Rallye Aïcha des Gazelles du Maroc.
Moroccans Hajar Elbied and Malika Ajaha will compete for their third Rallye Aïcha des Gazelles du Maroc behind the wheel of the Dacia Duster. Having won their category last year, they are hoping for another successful year.
Psychiatrist Marie Dumas and CFO Juliette Crépin will be taking part in the Rally for the first time, while Sabine Bonnet, a training consultant, and Isabelle Radenac, a telecommunications engineer, will be the crew of the third Duster.
The race will start on March 23 and end on April 2 with the award ceremony in Essaouira.