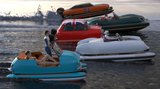 The idea is eccentric. Like the man who conceived it, the Italian designer Pierpaolo Lazzarini who wanted to combine two his great loves: τα cars and sea ​​boats. The project is called "Floating MotorsAnd what it does is convert classic modelssuch as Mini Cooper, Jaguar XKE ή FIAT 500in vessels.
The first attempt made in the framework of this project was named "The sweetAnd it was about the transformation of one Fiat 500 on a long boat 3.5 m. portable 4 passengers. The engine installed was one Mercury MerCruiser 995 cc with strength 70 PS that can develop speed 35 knots.
This idea attracted interest investors who wanted to allocate their funds to the Italian designer in order to further develop the his activity and is now able to work on personalized requirements of each customer. How far they can go is of course judged by available budget of each.
As a basis can choose the car of his choice while it has the ability to shape the boat with a length starting from 3.5 m. and reaches up to 7 m. At the same time its potential motor can be customized between 40 and 450 PS while there is also the option for purely electrical sets which however are not offered for high performance.
Of course in the extra equipment there is one wide range from options such as extra storage space but also folding sun decks for the passengers of the boat to enjoy the sun. As for prices; These can be started for very simple models from the 25.000€ and reach (or even surpass) them 200.000€.
Watch the video …
Source: floatingmotors.com