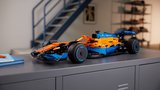 The result of the collaboration was a mini version of the McLaren MCL35M in the striking papaya color.
Designed by engineers from both companies, the Technic McLaren F1 consists of a total of 1,432 pieces. Its details are memorable, as one can "build" the complex V6 engine with moving pistons, the steering system, the suspension and the differential lock. It has a height of 13 cm, a length of 65 cm and a width of 27 cm, while in its packaging you can find all the stickers of the sponsors of the British team.
The price of the Lego MCL35M is 179.99 euros and you will be able to get it through the Lego website, from 1the Of March!