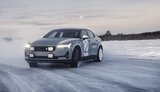 THE Polestar decided to "experiment" with one of its models, the electric Polestar 2 Long Range Dual Motor, presenting a -and unique- model that he named Arctic Circle and which accepted a series upgrades to be able to move comfortable and fast in the snowy landscapes of Sweden.
The development of the project was done by the engineer of the company Joakim Rydholm, who in his spare time running in races. So he tried to pass this experience that he has gained all these years to its basic characteristics new vehicle.
The changes started from the necessary increase the distance from the ground against 3 cm while the suspension system was made against 30% softer. At the same time its shock absorbers Ohlins can be set in three different positions, while the Polestar introduced for the first time a prototype control system that is activated through paddles on the wheel. To Artic Cirlce has wheels 19 inches by OZ Racing while each tire bears approx 490 metal nails so that it can move like… wind on the snow.
There were interventions in the engine as well 408 PS and 660 Nm torque of the factory model were judged… few. Horsepower increased by 61 PS while the torque reached 680 Nm. Externally it was chosen as the coloring matte gray decorated with white stickers and four LED floodlights were added at the front. Inside they stand out Recaro bucket seats while at the same time in the luggage compartment is one shovel which will help the driver to cope when he is in a place with a lot of snow.
Finally, although the Polestar currently excludes the production of this version, it will not be unlikely to see any of the above characteristics to be transferred to a future facelift.